Civilization is the process of enlarging the category of We and Us, and moving people out of They and Them until no one is left in it.
Chad Miller's stuff
Yep. That Chad.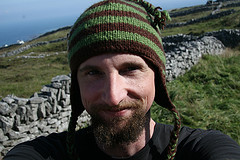 contact&40;chad.org
+1 321-445-1123
curriculum vitæ, in weird-to-mundane order.
I founded Café Scientifique Orlando in 2008 and organized for 6 years. I'm handing it off to someone else now. Back soon!
I had cancer at age 25. Then I had a freak heart-attack at 35. If you think that might instill serenity, wisdom, or gravitas, I probably have a fart-joke for you.
Parenting notes. I might be a bad parent, but I'm a damned good engineer.
I have been a jury foreman in a murder trial. ("Guilty.")
Orlando needed a new flag. It took a few years, but I helped design many and adopt a new one..
I have used Linux almost exclusively since 1995.
I have travelled a bit: Paris ×4, Orlando (12 years!), Seattle, Vieques, Boston, Heidelberg, Munich, Dublin, Galway, Stockholm ×2, Uppsala, Riga, Helsinki, Istanbul, Barcelona, Boston, Brussels, London ×4, Copenhagen, Portland ×2, Córdoba (AR), Buenos Aires ×2, Malta, Prague, Taiwan, The Hague. I'm trying to get to Tangier, Istanbul (my fave), India, Vietnam.
Running Minecraft on Linux? Use this Minecraft apparmor security wrapper. Even has Ubuntu/Debian packages.
I like to play what is likely the oldest board-game in the world, Go / Weiqi.
I'm trying to make a big model of the solar system.
Current job is improving Amazon AWS's lend-me-a-thousand-computers-for-two-weeks kind of business.
I took up photography at age 14.photos.
I try to contribute to Code for America, Open Seattle, and Code for Orlando, which put my skills to use for a good purpose.
I support the Tor project. I made a Snap package to strengthen its network by making almost any kind of device, desktop, tv, car, router, home security system..., into a Tor middle node. Ubuntu Core users can download it as "tor-middle-relay".
I have a great wife, and a pretty good son. He is literate enough to tweet, and I upload videos sometimes. He plays Go too.
I grew up in the woods of Georgia US, and now live in Seattle Washington US.
Contact info: +1-321-445-1123, chad@cornsilk.net, @chadmiller. GPG: 0xa806deac30420066 Use Signal.
I keep a sparse wish-list at Amazon.